Mr. Ramakrishnan Ramamurthy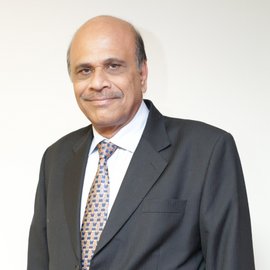 Mr. Ramakrishnan Ramamurthy, is a graduate in Commerce, holds Diploma in Mechanical Engineering and Post–graduate Diploma in Business Management. He is also certified Mentor / Coach for Leaders and Family Business advisor.
He possesses vast experience, decisive leadership skills and quantifiable achievements in the areas of strategic planning, sales & marketing, manufacturing, product development, international business development, project management & HR in manufacturing, engineering, agri and infrastructure sectors.
He has good track record of strategizing and driving successful projects and developed businesses from ground zero both in India and abroad. He demonstrated ability to plan turnaround of loss-making unit by empowering it with effective marketing strategy, manufacturing / operational excellence, improved processes and quality systems and building capability in the organisation & people skills.
He has been working with the Chairman of GMR Group as President – Business Integration for the last five years supporting business strategy, policies, systems, processes and integration of the various businesses in the Group. He started his career with Bosch (India) as an apprentice and thereafter worked with Murugappa Group for around twenty years.
He has been President of Mytrah Energy Ltd . (an IPP Renewable energy organization), Managing Director of GMR Industries Ltd. and Chief Executive of Sanmar Engineering.
Mr. Ramakrishnan Ramamurthy