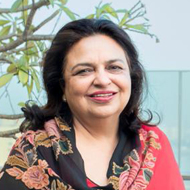 Ms. Jyoti Narang, aged 63 years, holds a Bachelor's Degree in BA Economics (Honours) from Lady Shriram College for Women, University of Delhi and an MBA in Finance from the University of Delhi. She has also completed her executive education in Advanced Management Programme from Harvard Business School, Strategic Marketing from International Institute for Management Development (IMD), Lausanne and Brand Management from Wharton University of Pennsylvania.
She is a business leader with extensive experience in the service industry. She has a strong strategic perspective, works well with a diversity of styles and has experience in crisis management. Her domain expertise lies in building consumer brands, management of human capital and the impact of technology on both distribution and operations. Till recently, she led a group of luxury hotels that attract an annual footfall of five million and cater to the most discerning clientele in the world. She was also the founding member of the Experience India Society that created the first global campaign for marketing India.
Additionally, being a part of the Tata Group with a combined revenue of over $100 billion and a significant presence across industries and geographies, she gained expertise in global business practices. Strategic risk, corporate sustainability and technology-led innovation are focus areas.
Her breadth of experience in marketing and operations combined with her early stint in manufacturing has enabled her to add value across multiple sectors.
Ms. Jyoti Narang